Calendar Support
How to connect and import calendars with Pencil Planner Pro
The calendar events displayed in Pencil Planner are pulled from the accounts & calendars you have connected in the Settings app and in the Calendar app.
For basic usage
Now you can open Pencil Planner and create events using the "+" button!
How to import Calendar events from iCloud, Google, Outlook, Yahoo, etc.
The way to display your iCloud, Google, Outlook, Yahoo, etc. calendar in Pencil Planner is by making sure it is connected to your iPad or iPhone in the Settings App.
To do this, visit either

Settings > Passwords & Accounts or

Settings > Calendar > Accounts. There you should see a screen similar to this: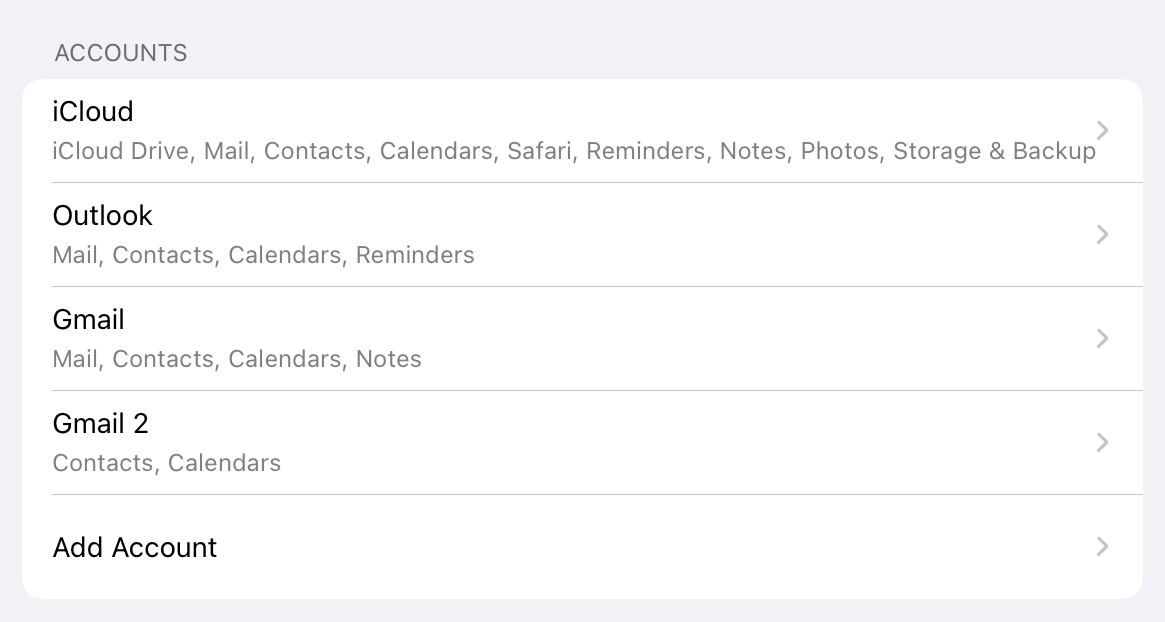 If you see your iCloud, Google, Outlook, etc. account in that list, make sure you enable "Calendars" for that account.
If you don't see the account, select "Add Account", and you will be brought to a screen like this:
From there, you can add your email account to your iPad, making sure to enable "Calendars" as shown here:

Give your device time to sync the calendar events, then you can verify everything has been synced by opening Apple's Calendar app and make sure the events you expect show up there.
Once you have verified that Apple's Calendar app shows the events like you expect the events will be displayed in Pencil Planner as well.
How to sync calendar events between devices
Each device will only show the calendar events you have connected to that device.
For example if your iPad shows the events you expect, but your iPhone doesn't, follow the directions above on your iPhone to connect your calendar.
Verify your calendar is connected correctly
Verify your calendar is connected correctly by opening the default Calendar app on your device and make sure the expected events show up there.
Create a new Calendar
To create a Calendar in Pencil Planner, the current accepted approach is to use Apple's Calendar app.
Open Apple's Calendar app
Visit the Calendar list
Tap "Add Calendar" and follow the instructions
Return to Pencil Planner
Grant access to calendar events
To grant access to Calendar events in Pencil Planner, open the settings menu, then switch on "Enable Calendar Events"
Visit Settings > Pencil Planner & Calendar Pro and make sure to enable Calendars as shown below